Multnomah Arts Center Gallery
Call For Artwork: Monthly Shows for Multnomah Arts Center Gallery 2020
Announcing a Call to Artists for the 2020 Multnomah Arts Center Gallery schedule of monthly juried exhibits. Experienced and emerging artists living in Oregon or Washington (in the vicinity of Portland) are invited to submit group and solo proposals for shows in the gallery. For more information about this Call to Artists, please contact Jaye Campbell at: jaye.campbell@portlandoregon.gov.
Submission Deadline: September 1, 2019
Now showing in the gallery:
July 5 – June 30, 2019
Reception: Friday, July 5, 7-9pm
"Audubon to Autobon"
Hand colored etchings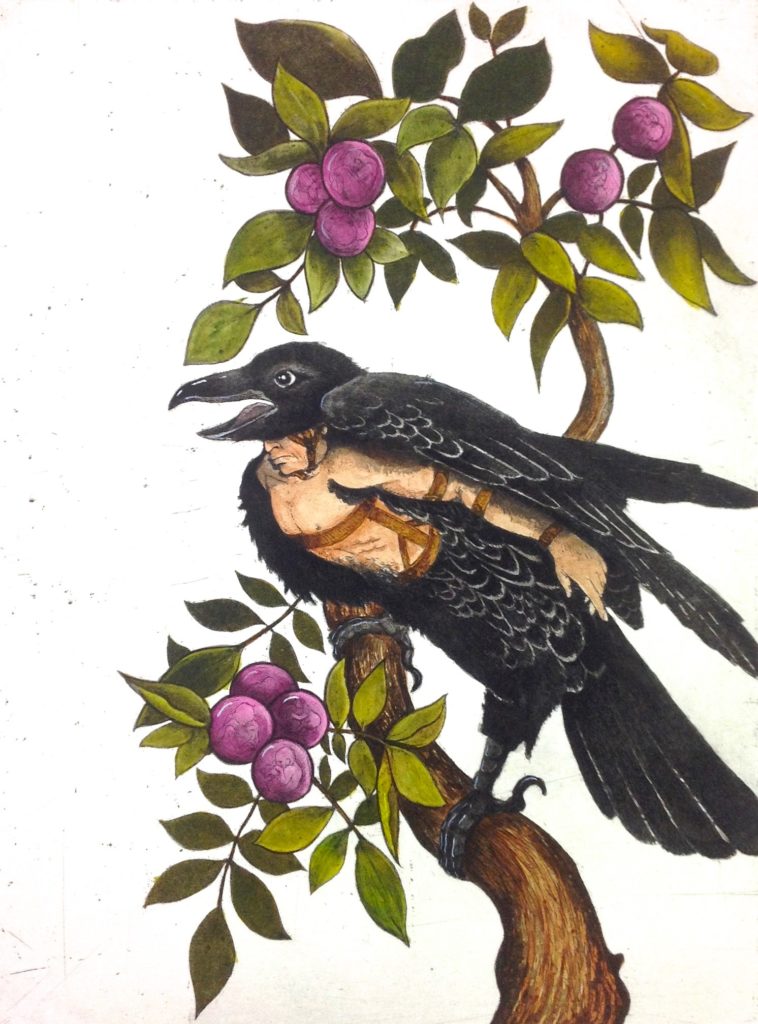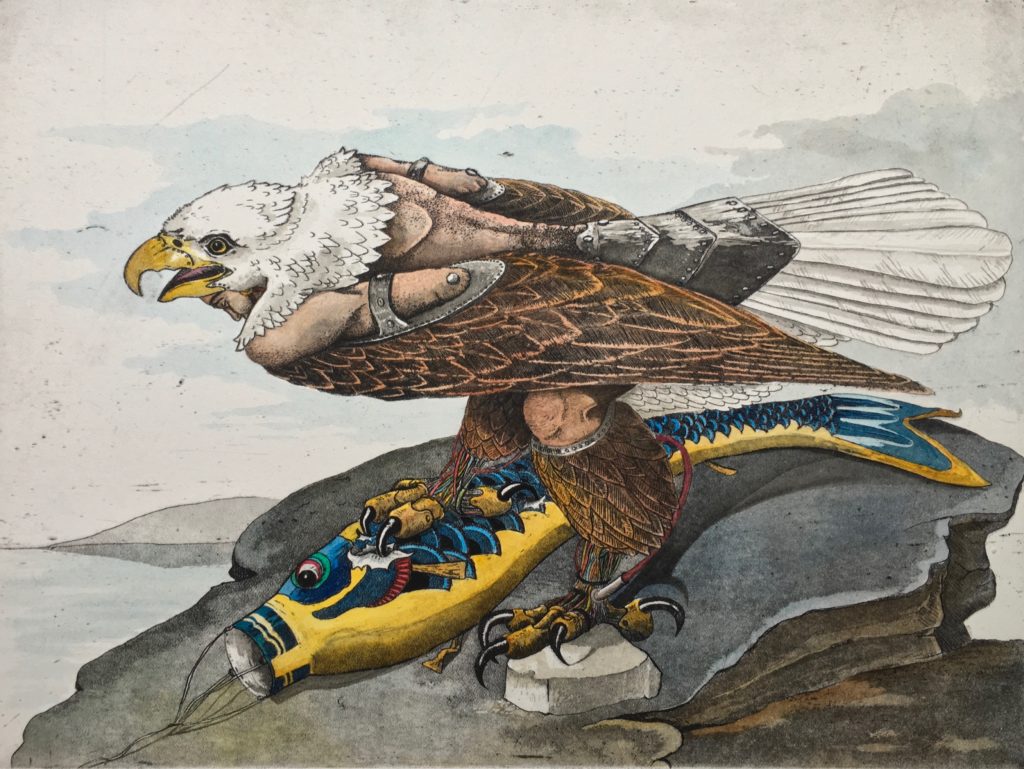 "Audubon to Autobon," a series of hand colored etchings by Gene Flores, will be on view at the Multnomah Arts Center beginning July 5. The exhibit portrays the modernization of the natural world and man's increasing manipulation of nature.  An opening reception will be held on Friday, July 5, 7-9pm.  The show runs through July 30 and closes at 5pm on that day.
Gene Flores was born and raised in El Paso, Texas.  He received his BFA from the University of Texas El Paso and his MA and MFA in Printmaking from the University of Iowa.  He arrived in Portland in 2001 and began teaching painting, drawing and printmaking at Portland Community College in 2005.  Presently, Flores is the Dean of the Arts, Performance and Design division at the Portland Community College Sylvania Campus.  He currently lives in La Center, WA. 
In 2015, Flores started his series of colored etchings based upon John James Audubon's Birds of America prints.  The copper plate etchings are individually hand colored, measuring 9×12 inches and are limited to a final edition of 10.  As he explains, "The early images in the series are very similar in composition to the original Audubon images.  As the series evolved, the imagery became more surreal with mechanical influences replacing much of the natural elements."  The birds depicted focus on the three areas in which he has lived, the Southwest, Midwest and the Northwest.  As Audubon did not focus on the Southwest or the Northwest regions, Flores improvised on his selections in the series.  Those that are not represented, such as the roadrunner, he replicated the composition seen in many of the Audubon prints for his series to remain consistent.
Coming soon in the gallery:
Julie Forbes & Kendra Hurteau
August 2 – September 3, 2019
Reception: Friday, August 2, 7-9pm
"World of Evolving Art: Artwork made with discarded items"
Sculptures by Julie Forbes and paintings by Kendra Hurteau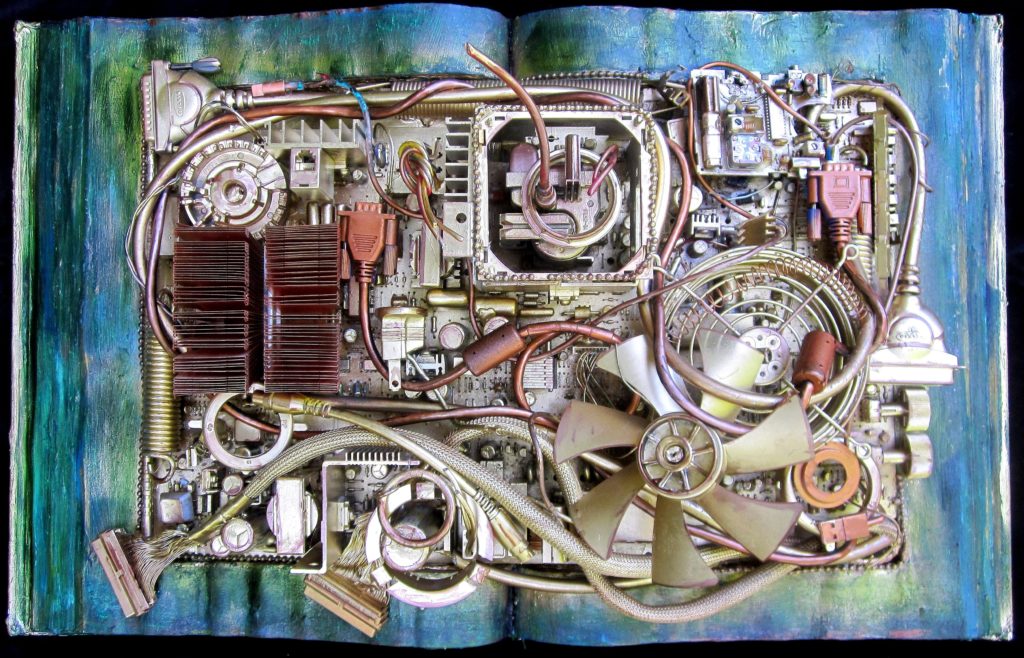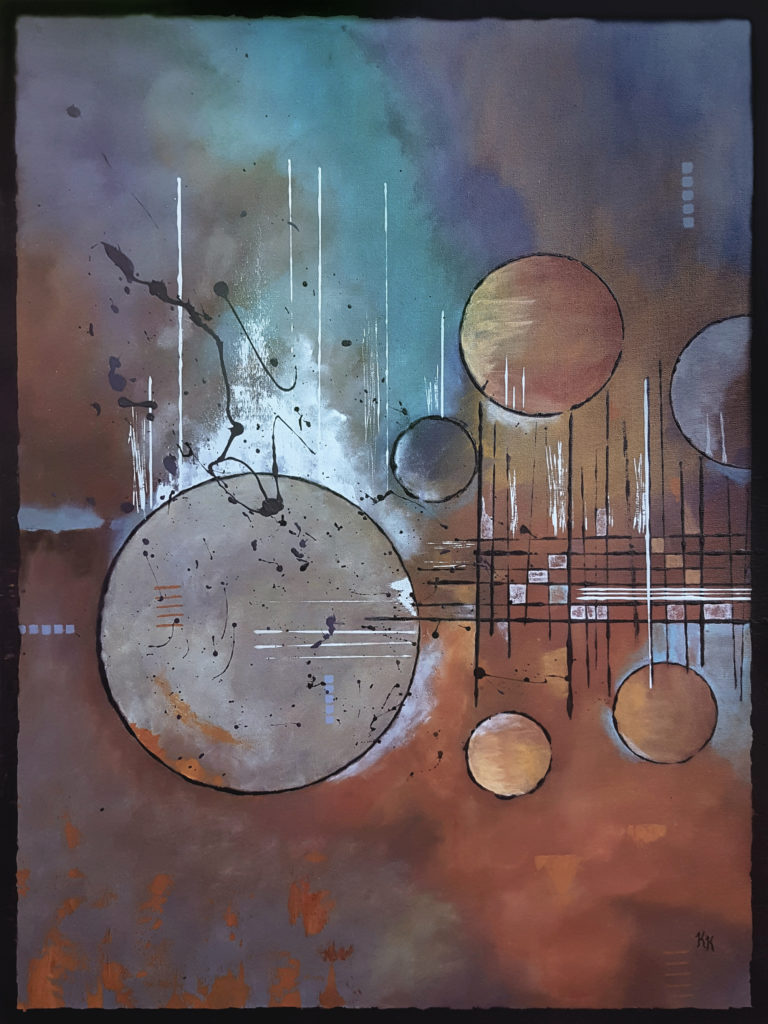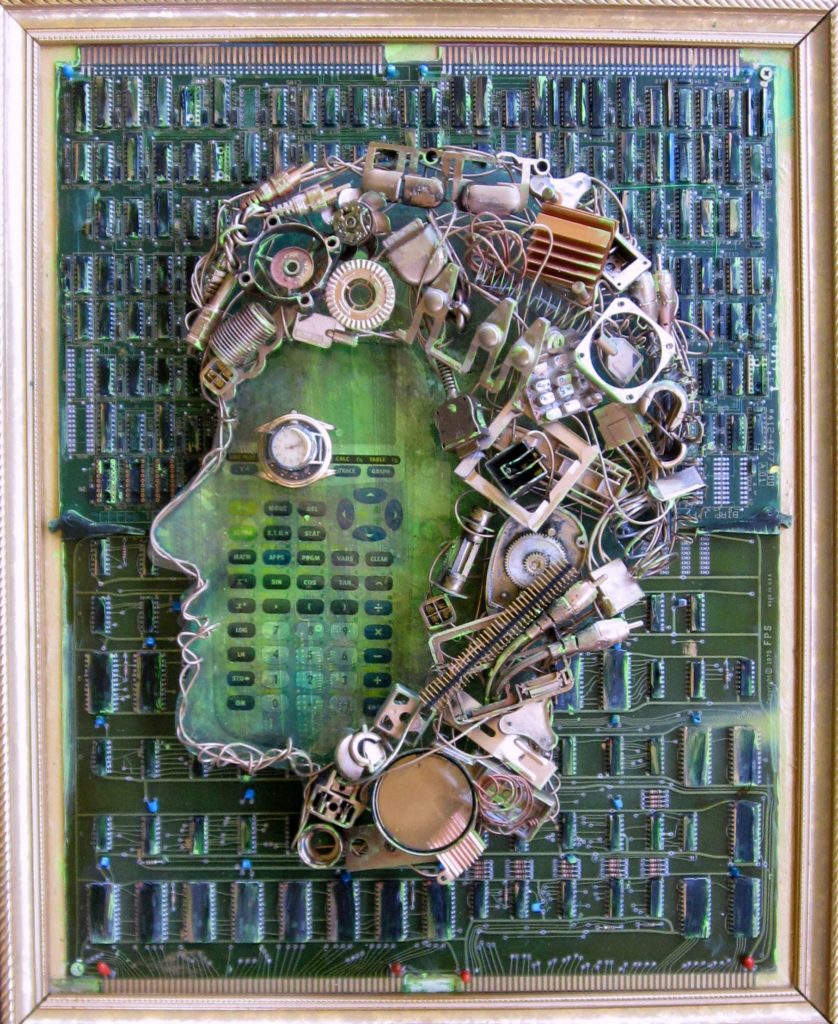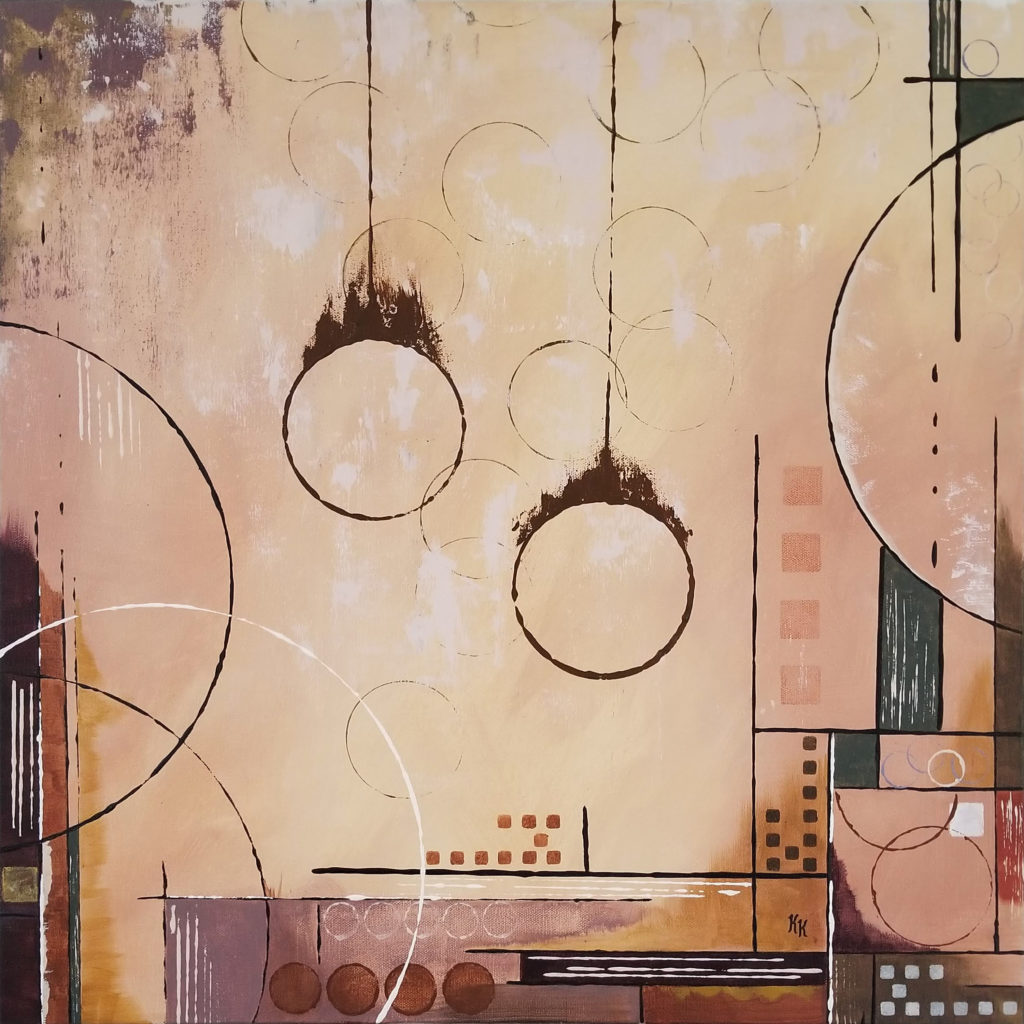 "World of Evolving Art: Artwork made with discarded items," an exhibit of sculptures by Julie Forbes and paintings by Kendra Hurteau, will be on view at the Multnomah Arts Center beginning August 2. The artwork reflects the artists' unique art experience in which they recycle to create their art. An opening reception will be held in the gallery on Friday, August 2, 7:00-9:00p. The show ends September 3 at 5:00pm.
Julie Forbes is a Portland artist who, in her daily perambulations as a walker, encounters trash which she incorporates into her sculptures. The result is torn-down, built-up redemption for future lost artifacts. As she explains, "I champion the art of reclamation, an ethos born out of the crushing need to re-purpose and re-create. My art both celebrates and decries the detritus of our late-capitalist culture." Art from her 3-D series, "Electronic Viscera," reveals the inner workings of our enslaving, labor-saving devices so that viewers can make the connection between art, technology, and sustainability.
In her paintings, Kendra Hurteau likewise recycles to create art. She uses discarded plastics and metals to create the shapes in her "Ever Evolving" paintings. She states, "My art becomes a visual journal in which the whole world can see. The designs I create are inspired by our emotions and human experience. It's my intent to connect those visceral feelings to something visual whether through my abstracts or portraits." She wishes to engage the viewer, wanting them to relate to what they see, and to experience a reaction in connecting the dots in the privacy of their mind.
Gallery Hours:
Monday - Friday: 9:00am - 9:30pm
Saturday & Sunday: 9:00am - 5:00pm
A portion of all sales supports arts education at MAC
Multnomah Arts Center Gallery has approximately 200 linear feet with beautiful white display walls and "floating" walls for versatile art displays. As an educational instrument for our community, the MAC Gallery has been open since 1982 and has had over 300 shows. The artists who show here are residents of Oregon or Washington if they live in the immediate vicinity of Portland. We have 12 shows throughout the year with an artist reception coinciding with First Friday in Multnomah Village.
The MAC Gallery reflects the artistic dynamism of the Portland area with exhibits that emphasize the following:
Artists not neccessarily represented by a gallery or with an art degree

A diverse spectrum of media, from Fibers to Metal Arts and beyond

Diversified subject matter, from controversial themes to the simply pleasing

The working process of art through repetition of a single artist or group

Trends in the artistic community Artwork related to current events
Though the main purpose of the Multnomah Arts Center Gallery is educational, we hope to have the shows stimulate thought and/or emotion and create some sort of reaction in the viewers who go through it.
Multnomah Arts Center's mission is to provide high quality instruction and participation in the performing and visual arts to all interested persons, regardless of age, race, religion, ethnic origin, financial means, or level of ability. The MAC Gallery reflects this mission by paying the artist a larger commission than traditional galleries. Artists are accepted to show their work based upon a variety of criteria including artistic excellence, content, craftsmanship, professionalism, marketability, and educational value.
If you are interested in purchasing an artwork on display which is for sale, please inquire at the front office. A portion of all sales supports arts education at MAC. Read about the gallery's 2013 renovation in the Portland Tribune.