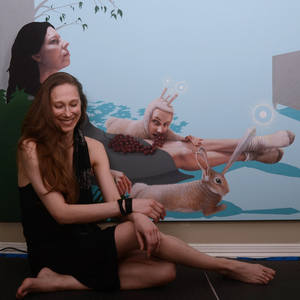 Painting & Drawing Instructor
Born in Washington DC, Tanmaya Bingham was raised in the artistic community of Santa Fe, NM. Her travels and extended residencies in Asia, Africa, Australia, and Europe have been essential to the development of her creative style. Bingham's hand drawn and painted artworks combine realistically rendered subjects in otherworldly contexts with an oblique or unusual frame of reference.
Bingham has been exhibiting both nationally and internationally for over a decade in places like New York, Santa Fe, Australia and Hong Kong.
Academically, Bingham has a Bachelor of Arts (BA) from Antioch University, Santa Barbara, CA and a Masters of Arts, Visual Arts (MAVA – equivalent to a Masters of Fine Art – MFA) from the Australian National University in Canberra, ACT. She has also studied painting and art history in Florence, art and architecture in Paris, and 3D digital modeling and sculpting in London and Vancouver, BC.
In addition to Bingham's own art practice, she has managed galleries and art fairs, worked with private art dealers, and mentored other artists. Collectively, her extensive arts education and industry experience have provided her with a deep understanding of what it means to be an artist in the 21st century.