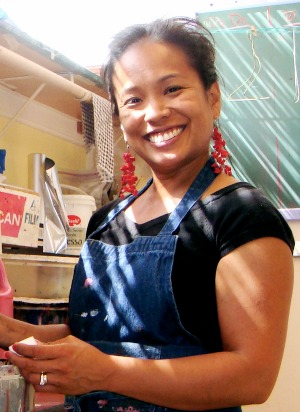 Palmarin Merges is an artist working in mixed media, printmaking and painting. She has participated in shows in Japan, the Philippines, San Francisco and Portland, OR.
Printmaking is her primary means of expression but she does not strictly consider herself a printmaker. Her works on paper are organic and painterly with the intent of creating unique one of a kind works on paper rather than editions. In her most recent series she examines the environment of the Pacific Northwest and her relationship to it. Palmarin received a Bachelor of Arts degree and Secondary Teaching Credential from Point Loma Nazarene College in Point Loma, CA and a Master of Fine Arts degree from the San Francisco Art Institute.
She currently is a full-time artist and a part-time Printmaking Instructor at the Pacific NW College of Art in their Continuing Education Program. She has taught Collagraph, Screenprinting & Polyester Plate Lithography at the Multnomah Arts Center.